What are you looking for?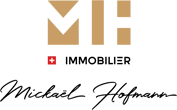 A Rigorous Selection Process
for Exceptional Properties
The Mickaël Hofmann real estate agency combines expertise and elegance. Specialising in sales, we provide professional services for our clients, presenting them with carefully chosen properties.
Location, comfort and prestige – we strike the right balance with these essential criteria. A property's quality is not determined by its price; its true worth lies in its value for money.
The Mickaël Hofmann agency inspects, selects and presents properties. Our clients decide.
My wife and I used four times the services of Mickaël Hofmann Immobilier Sàrl :
1.Sale of our chalet in Mollens.
2.Purchase of our villa in Granois
3.Purchase and sale of our apartment in Savièse.
Every time we congratulated ourselves to have contacted this estate agency.
Every of our real estate operations effected with Mickaël Hofmann went very well in time and at the agreed financial conditions, despite a difficult market.
We have been particularly impressed by the professionalism, competence, seriousness and the deep knowledge of the market shown by this agency.
Finally, « last but not least » we have much appreciated the kindness, the open-mindedness and thoughtfulness of the whole team at each of our contact.
This is a real professional estate agency in Valais and we can only recommend it.
Many thanks to Mr. Hofmann and Mrs Schindfessel for the quality of the welcome, their commitment and their professionalism. I have really appreciated the availability and the quick responses to any of my request, even after the sale was completed.
We would like to thank the real estate agency Hofmann for its professionalism and its patience, but especially for the trust showed towards us which is reciprocal, because without this we cannot go forward. These are the qualities which we have highly appreciated in Mr. Hofmann and Mrs Schindfessel, many thanks to both of you !
Many thanks to the Real Estate Agence Hofmann for the sale of our apartment in Crans-Montana.
On the advice of a friend, we have contacted Mr. Hofmann, who, after our first meeting, gave us a guarantee of confidence and honesty. His listening, his straight-talk as well as his excellent knowledge of the market are the qualities of Mr. Hofmann, and he is a person extremely professional and pleasant.
As an agency cannot be solid without foundations, the perfect follow-up of the file realized by Mrs Schindfessel has completed our total satisfaction.
Once again, a big thanks to both of them.
This is very pleasant to find the house that we are looking for since years.
Mr. Hofmann has accompanied us in this research and has given us the contact of all the enterprises in the construction to allow us to completely renovate the house !
Once again thank you for so much availability and professionalism.
A successful purchase thank to Mickaël Hofmann Immobilier help
This is further to a recommendation that I contacted Mickaël Hofmann. I wanted to become a resident in central Valais, the goal was to realize a dream, a real challenge for the estate agent. The specifications included precise criterion for the research of a villa with some requirements. Mr. Hofmann played a fundamental role in the research and the selection. In less than 6 months, the project has succeeded and I am today the happy owner of a beautiful house very well located in Coméraz.
I have been completely seduced by the professionalism of Mickaël Hofmann, his perfect knowledge of the market, his listening of every moment, his important responsiveness, his management and his perfect follow-up of the file at each step of its processing… so many valuables assets to smoothly and efficiently succeed in a property transaction.
My satisfaction is as high as the expertise of this estate agency and its team which is assisted by Joëlle ensuring an outstanding follow-up.
With all my recommendations.
Do not hesitate to leave your project in hand of Mickaël Hofmann Immobilier Sàrl !
Recently Added Properties